Cataracts are common with age and can result in blurred vision and ultimate blindness if the cloudiness of the eye lens is not treated. For seniors, having cataracts might look like viewing the world through a dirty window. Over time, the "dirtiness" worsens, making completing everyday tasks difficult. When seniors have cataracts, home care aides can be essential in the home, providing assistance that keeps seniors safe.
When people age, the proteins typically found in the eye's lens begin to degrade and clump together, resulting in telltale cloudiness. However, age isn't the only cause of cataracts.
Continue reading to learn more about cataracts and how home care services can assist.
Environmental Factors Affecting Cataract Risk
Environmental factors are risk factors that are common in the spaces where seniors live and frequent. These environmental factors can increase unstable molecules in the body. These unstable molecules, known as free radicals, can damage healthy cells.
Being mindful of environmental factors can help seniors decrease their risk for cataracts. One of the most common environmental issues is exposure to tobacco smoke, whether seniors smoke or they're exposed to second-hand smoke. Other exposure issues include industrial chemicals or pesticides. Chronic alcohol use and extended exposure to UV light are also possible risk factors.
Medical Factors That Might Increase Seniors' Risk for Cataracts
Certain medical conditions might increase the risk of cataracts. These include diabetes or eye diseases, such as retina pigmentosa or uveitis. Additionally, medications used to control conditions may affect seniors' susceptibility. A good example is the use of corticosteroids to treat rheumatoid arthritis.
Genetic Risk Factors Affecting Cataract Risk
Unfortunately, there is nothing seniors can do to minimize their risk regarding genetics and family history. When family members are diagnosed with cataracts, there is a higher likelihood that other family members are also at risk.
Common Symptoms of Cataracts
Typically, cataract symptoms increase over time. Home care professionals can assist seniors and loved ones by monitoring all aspects of seniors' health, including their vision. Common symptoms which may point to cataracts are listed below.
Hazy or cloudy vision
Sensitivity to light
Issues with night vision
Seeing glowing rings, called halos, around lights
Over time, cataracts might also cause alterations in color perception, a significant change in vision prescription, or a need for brighter lights.
How Cataracts are Treated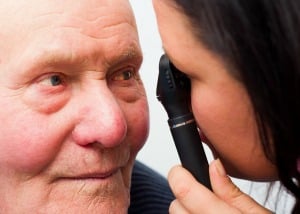 It should be noted that cataract surgery is a frequent technique and is considered safe with high success. If cataracts are caught early, treatment might be as simple as changing seniors' glasses prescription or using magnifying lenses to restore normal vision. If cataract issues are extended, surgery to remove the hazy lens might be required.
Home care professionals can talk with seniors and loved ones about the causes and symptoms of cataracts to help better monitor the situation. Most people diagnosed with cataracts early and receiving therapy can adequately manage their symptoms and keep their vision intact.
Additionally, home care aides can ensure seniors get to their vision exams and follow the recommendations of medical professionals to increase their health and well-being.
Source:  https://www.nei.nih.gov/learn-about-eye-health/eye-conditions-and-diseases/cataracts
https://www.healthinaging.org/a-z-topic/cataracts#:~:text=Cataracts%20are%20a%20common%20result,help%20when%20cataracts%20are%20small.
If you or an aging loved one are considering Home Care Services in Reedley CA please contact the caring staff at A-Plus In Home Care, Inc. today. Call (559) 224-9442.
A-Plus In Home Care, Inc. is a Trusted Home Care Agency serving Fresno, Clovis, Sunnyside, Fowler, Reedley, Selma, Sanger, Madera CA, and surrounding areas.
Latest posts by Andy Howard
(see all)