When it comes to recovering from surgery, there's no place like home. Home care after surgery is an important step in aiding the recovery process and helping you to get back to your everyday life as quickly as possible. Being well-prepared for your post-surgery recovery can make all the difference in how quickly you heal and how easy the transition will be.
How Does In-Home Care Help After A Surgery?
Post-surgery home care plays a vital role in the recovery process. It provides individuals with specialized attention and care that is tailored to their unique needs. In-home care also allows for a safe and comfortable environment, where patients can rest, heal, and regain strength without being exposed to the risks of hospital stays or nursing home visits.
Post-surgery home care is highly beneficial not only to the patient but also to those close to them who provide the necessary support. A high-quality post-surgery home care provider offers personalized services that address their specific needs, allowing family members to focus on providing emotional support during a difficult time. Services may include assistance with activities of daily living such as eating, bathing, dressing, and medication reminders.
In-home post-surgery care reduces stress on all parties involved and enables an individual to return to their usual lifestyle in a timely manner. It is essential for successful recovery after surgery and should be considered when planning for postoperative care.
How Should Seniors Plan For Elective Surgeries?
Seniors who are undergoing elective surgeries need to plan for the transition from hospital to home. This includes making arrangements for in-home care after surgery. Planning ahead can ensure that seniors receive the best post-operative care and make a smooth transition back into their daily lives. Here are tips to help seniors plan for elective surgeries and in-home care:
1) Research in-home care services before surgery. Find out which services are available in your area and ask friends or family members who have had similar procedures about their experiences with home care.
2) Speak with your surgeon about discharge plans and when you can expect to go home. Ask about any special instructions or needs related to recovery at home and how long you will need home care services.
By taking the time to plan ahead, seniors can be better prepared for the transition from hospital to home after an elective surgery. When all of the necessary arrangements have been made, seniors can focus on their recovery knowing they have a supportive team of family, friends, healthcare professionals, and in-home caregivers ready to help them get back on their feet again!
At A-Plus In Home Care we put the needs of our clients and their families first. But don't just take our word for it read our testimonials.
A-Plus In Home Care strives to be as flexible as possible, enabling us to better meet our client's needs and schedules across all our services.
Providing exceptional Home Care After Surgery in Fresno, Clovis, Fowler, Reedley, Selma, Sanger, Madera, and surrounding communities.
What Services Are Provided With Post Surgery Home Care?
When it comes to recovering from surgery, post-op home care can make all the difference in a patient's well-being. It's important for seniors to know what services are provided when deciding how to plan for elective surgeries and their recovery at home. Let's take a look at some of the most common post-op home care services:
Care coordination: This includes overseeing the patient's overall care plan, providing referrals for additional support services, keeping track of medications, and helping with insurance matters.

Physical assistance: Helping with activities such as bathing, dressing, and mobility are important aspects of post-op home care.

Meal preparation: Assisting with grocery shopping and meal preparation is key to making sure the patient is receiving proper nutrition while recovering.

Mental health: Post-operative emotional support during recovery can be just as important as physical care.
The right post-op home care program will provide personalized attention tailored specifically to the needs of each individual senior. Through coordinated services by experienced professionals, seniors can rest assured knowing they'll have help throughout their recovery process.
How Does Post-Surgery Home Care Help Family Caregivers?
Post-surgery home care is an invaluable resource for family caregivers. It provides the support and assistance needed to ensure a successful recovery for their loved one. With that in mind, let's take a closer look at how post-surgery home care can help family caregivers.
First and foremost, post-surgery home care can provide the physical assistance that family caregivers may not be able to offer on their own. This includes activities such as providing medication reminders, helping with mobility issues, and assisting with personal hygiene tasks. Additionally, a post-surgery home care provider can help with food preparation and light housekeeping tasks so that family caregivers have more time to spend on other important aspects of caring for their loved one.
Finally, a post-surgery home care provider can provide emotional support during this difficult time. From offering reassurance during medical appointments to engaging in conversation when the family caregiver needs a break from providing care, these providers are trained to meet the needs of both the patient and the family caregiver alike. This type of support is especially important when it comes to managing stress levels and ensuring a smooth transition back into everyday life after surgery.
Post-surgery home care is an essential resource for any family caregiver who is feeling overwhelmed or unsure about how best to help their loved one through surgery recovery. With its comprehensive services and specialized expertise, post-surgery home care provides families with much needed peace of mind while they focus on providing quality care at home.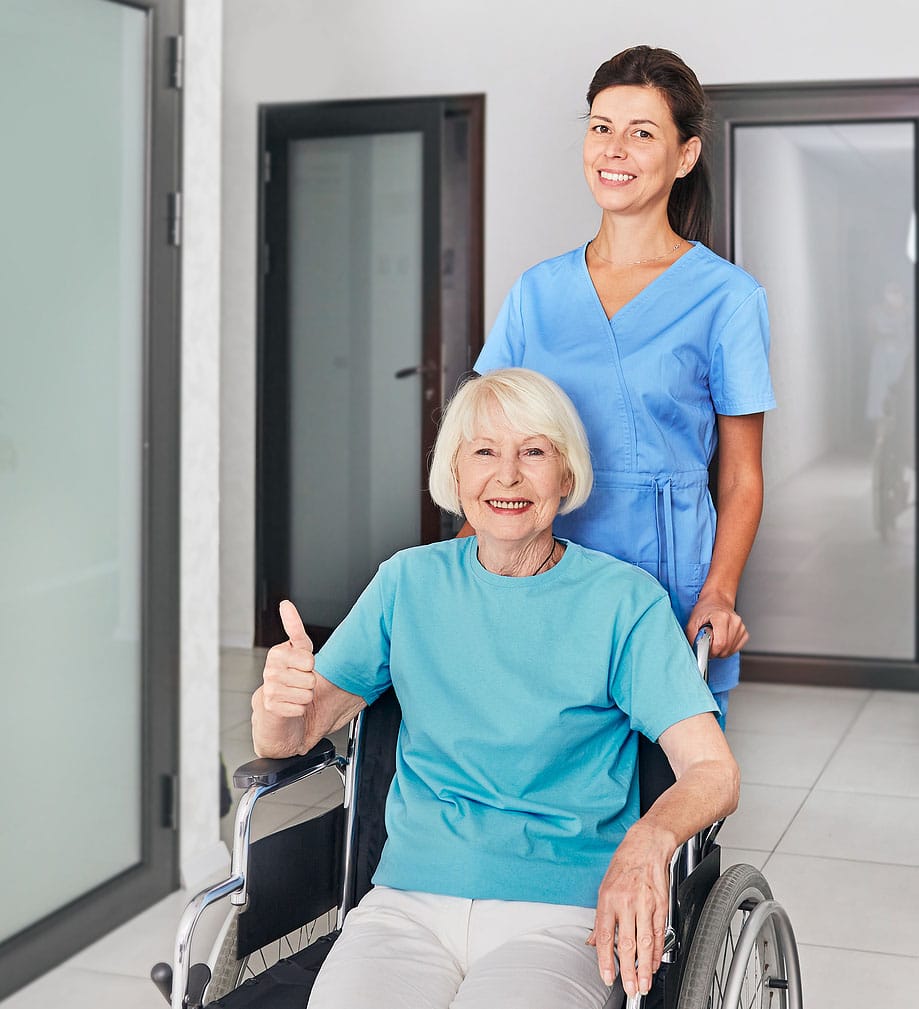 How Can A-Plus In Home Care Help?
The caregivers from A-Plus In Home Care are trained to help adult after-surgery clients at home with many activities. These activities can include:
Walking
Toileting
Bathing, Dressing & Grooming
Meal Preparations
Medication Reminders
Transportation to post-op appointments
Laundry
Housekeeping
You may have some questions. Chances are we've been asked the very same question quite a few times. So we've started gathering a few of them here.
Tips On Choosing The Best Home Care Agency For Post-Surgery Home Care
Choosing the best home care agency for post-surgery home care is a big responsibility, and it's essential to make sure all of your family's needs are taken into account. Home care after hospitalization can be an invaluable asset for both you and your loved one during this challenging time. Here are some tips that can help you find the perfect home care agency for your family's individual needs.
First, research the various options available in your area. Take into consideration any recommendations from doctors or friends, as well as online reviews to get a better understanding of each agency's quality of service. Consider both cost and availability when making your decision – you want to ensure that the agency you choose is within your budget and offers services at times that are convenient for you.
Second, take time to interview potential agencies with questions specific to their qualifications and experience providing home care after hospitalization. Make sure they are licensed, insured, and have a good reputation in the community. Ask if they provide any special services such as physical therapy or medical equipment rental that may be required by your loved one during the recovery period. Also inquire about how staff members are screened, hired, trained, and supervised – these will give you an idea of what type of people will be providing care in your home.
Finally, don't forget to ask about communication protocols with physicians and other healthcare providers involved in your loved one's post-surgery care plan. Make sure there is an established process for updating providers on changes in condition or medications so everyone is on the same page regarding the patient's progress. Choosing the right home care agency can help ensure everyone involved has peace of mind knowing that all necessary steps have been taken to ensure a safe recovery at home following surgery.
Frequently Asked Questions
Since A-Plus In Home Care began operating in 1999, we have provided local seniors and others with high-quality, personal, in home care services to help simplify and improve the quality of their lives. We work closely with family to ensure your loved ones get the best care available senior care in Clovis and Fresno, California.
Our mission is to work within the community to provide all levels of personal care to you or your loved one. We partner with your team to ensure your optimum health and well being, and our staff is to trained to provide compassionate and dignified care to you. They provide that extra special touch, making us one of a kind in elder care.