July is National Carpet Cleaning Month and it's the perfect time for seniors to focus on making sure that their carpets are clean. It's often recommended that seniors have wall-to-wall carpeting because there is less risk of seniors tripping or falling if they have wall-to-wall carpeting. And wall-to-wall carpeting gives seniors something soft to land on if they do fall. But it can be a real challenge keeping wall-to-wall carpet clean. Home care services can help seniors in many ways, including helping seniors keep their homes clean and sanitary.
Over time carpets absorb odors, dust, pet dander, dirt, and other debris. They also collect spilled drinks and food, crumbs, allergens, and other gross things. When wall-to-wall carpet is dirty it can impact the air quality inside the house. It can also trigger allergies and respiratory problems in seniors. That's why carpets need to be cleaned regularly. It's recommended that seniors get a professional carpet cleaning at least once a year.
But there are also things seniors can do to keep carpets clean between professional cleaning like:
Get Home Care Services
With home care seniors won't have to struggle to clean carpets, mop floors, do laundry, or perform other tasks around the house. Home care helps seniors live independently and stay in the homes they love. Talk to a local home care agency today to find out more about home care options for your senior parent.
Use An Enzyme Based Cleaner
Spot cleaning with an enzyme-based cleaner is a great way to make sure that spills and stains don't turn into a permanent problem. Always use an enzyme-based cleaner because the enzymes in the cleaner will attack and break down any stains, including biological material. So food, drinks, and any pet accidents will disappear quickly when an enzyme cleaner is used. Some of the best enzyme cleaners can be purchased from a cleaning supply company or at a pet store.
Vacuum Often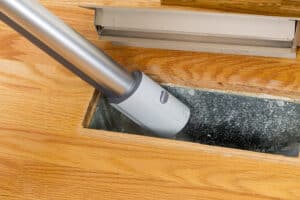 Vacuuming isn't a fun task, but vacuuming often will help with the indoor air quality and it will help keep carpets clean and fresh. Home care can help seniors with vacuuming, or seniors can get a vacuum robot that travels throughout the house by itself vacuuming each room in turn. Having a robot vac can also help keep wood and tile floors clean.
Steam Clean With A Steam Mop
One of the best tips that seniors can use to freshen up their wall-to-wall carpets between cleaning is to use a steam mop. Some steam mops have attachments that allow the mop to glide over wall-to-wall carpet sanitizing them with hot steam. Using a steam mop on the carpets can get rid of bacteria that cause odor and kill mites. It also makes it easier to clean in-set stains like pet stains or deep-set spills. The same attachment can also make it easy to steam-clean upholstery to keep the furniture clean.
If you or an aging loved one are considering Home Care Services in Sunnyside CA please contact the caring staff at A-Plus In Home Care, Inc. today. Call (559) 224-9442.
A-Plus In Home Care, Inc. is a Trusted Home Care Agency serving Fresno, Clovis, Sunnyside, Fowler, Reedley, Selma, Sanger, Madera CA, and surrounding areas.
Latest posts by Andy Howard
(see all)